My Skin Care Rules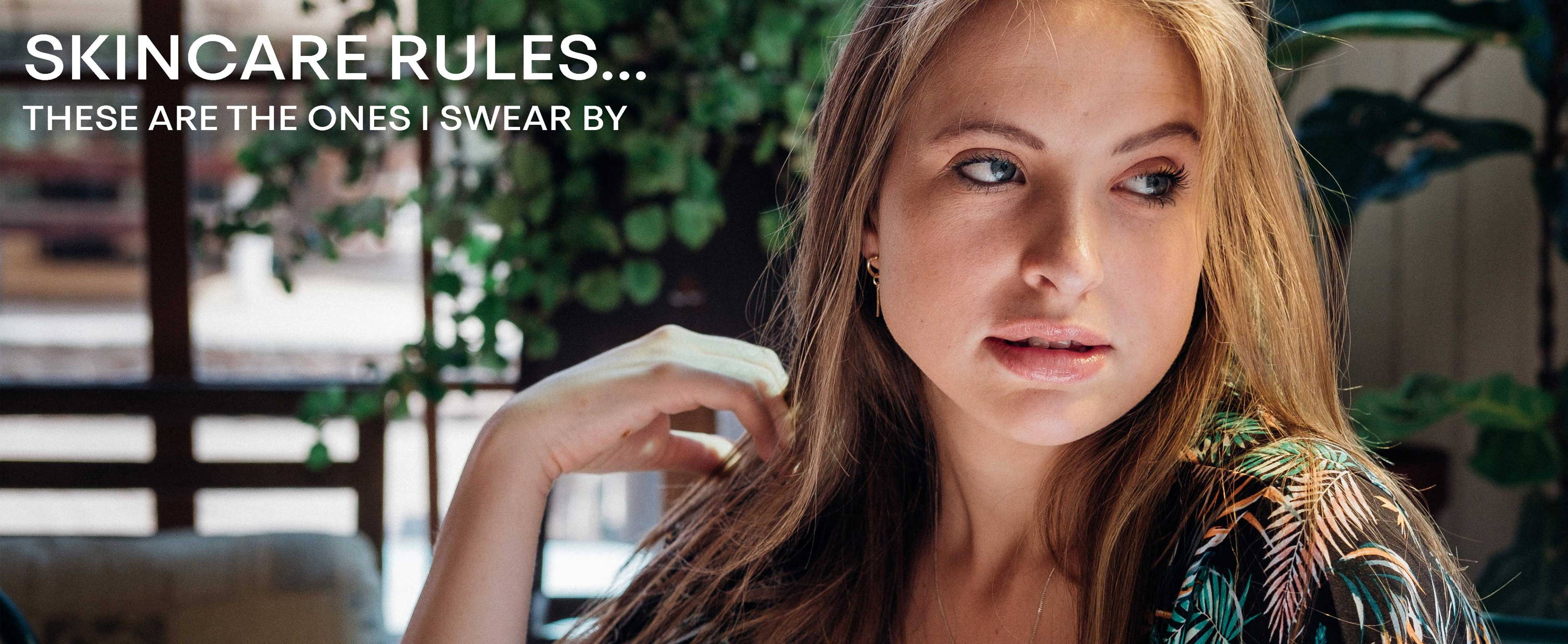 Thirty years as an esthetician is a long time being immersed in the ever-changing world of skincare. I have picked up my fair share of skincare beliefs along the way. 
I've had to sift through a lot of nonsense, gimmicks, and false claims and decide for myself what I trust is truthful, based on scientific research and common sense. Here are five skincare rules that I swear by and live by—and I believe you should, too.
1. I avoid drinking out of straws and water bottles. 
I drink water all day long (even though it's the least efficient way to hydrate the skin) and I make a big effort to pour my water into a wide-mouthed glass. 
I certainly am not going to stop smiling, kissing, and talking so those movements are here to stay, but if I can cut back on a movement that only leads to something that I am not particularly thrilled about, then why not? 
It is the small things that make a difference, and this skincare rule to avoid straws and water bottles is one I believe can be beneficial in the long run. Note: If I do have to drink out of a water bottle, I make an effort to keep my mouth still and not go into a pursing movement when I sip.


Get instant treatment for Hyperpigmentation!


Get Rid Of Hyperpigmentation

Renews And Removes Dead Skin Cells


Boosts Skin Regeneration Rate
1,000 five-star reviews in 3 Months
2. I never pick at cystic blemishes.
The truth is, for some type of blemishes, there is a time when it's appropriate to pick or extract them, like when a whitehead is present and is "ripe" for doing so. However, deep "underground" painful blemishes like cysts are off-limits and absolutely should never be picked at. 
The reason is that with cysts, the infection is not meant to come out through the surface of the skin, despite how much you can feel a painful lump underneath. Cysts will hang around for a while and be completely annoying but eventually, your body reabsorbs that infection, and the bump will dissipate. 
Picking at a cyst that is never meant to come out through the surface will only lead to dark marks that linger for months and months, which is why it's important to follow this skincare rule. As someone who had adult hormonal cystic acne all through my twenties and well into my thirties, I learned this the hard way. 
I convinced myself that my hands were licensed and I knew what I was doing. Instead, I would be left with a scabby bleeding mess and a bump still sitting underneath where Mother Nature wants it to be. Scars, scars, and more scars. 
What a mess. I eventually tamed this bad habit by following my own skin picking advice as well as letting this cystic acne spot treatment do the work. When I do get a regular blemish that does require some gentle skin picking intervention, I follow my own advice for how to get rid of a blemish fast.
3. I never cleanse my skin with an oil.
The sole purpose of a cleanser is to clean the skin. Doing so allows your skincare products that follow (vitamin C, sunscreen, exfoliating acids and other important active ingredients) to work their best and make the most improvement in your skin. 
With the increasing popularity of using cleansers in a solid balm form or pure oil, many people aren't aware that the oil is actually depositing a coating of oil on the face. This provides more of a moisturizing experience and that's not the goal of a cleanser. 
Yes, for liquid foundation wearers, you DO need a cleanser with an emollient aspect so it can break down makeup, but that doesn't mean you have to break this skincare rule. I believe an oil or balm is the wrong way to go about it. For makeup removal, I will only use a lightweight cleansing lotion. 
This takes off my makeup beautifully and creates a clean canvas for the rest of my routine. To understand more about how I feel about oils, read about these cleansing methods as well as why you might be using your face oil all wrong.
4. I never exfoliate my skin daily. Instead, I limit exfoliation to no more than five days a week.
It's a fact. Hydration = healthy skin and if you're exfoliating too often (and certainly aggressively), this can be damaging your skin's protective barrier and making moisture escape easily. 
This leads to the skin not looking moist and bouncy, but also contributes to internal inflammation that sets off a free radical response that causes serious damage to your cells. NOT GOOD. Trust me when I say, people are going crazy with overusing exfoliating products and making their skin worse, without even realizing it. 
I see it all the time. I love a good acid peel, facial scrub, and exfoliating serum just like the next person, but I give my skin a break a few nights a week and you really need to get into this habit of following this skincare rule, too.
I only use an exfoliant five times a week. Sometimes less depending on how my skin feels, but I certainly don't do more.
5. During daylight hours, I always have face makeup on. I consider it a form of skincare.
One thing that I noticed soon after moving to Texas is how much better the quality of the skin was for Southern women than Northern women. In women ages 65 and beyond, where the signs of aging will be quite noticeable, their texture was so much smoother and their skin looked considerably younger for their age. Why would this be? I mean, Texas the sun is strong and there are way more opportunities to spend time outside since we don't get the snow that traps us indoors. In theory, Southern women should show more sun damage, right? 

Well, I figured it out. It's because many Southern women wear makeup every single day and have been for years. It's called "putting your face on." In doing so, these makeup wearers had an unknown advantage dating back to the 1950s when they first started using Max Factor's pancake makeup. The ingredient in pancake makeup and most makeup even used today, is titanium dioxide which is used in sunscreen. How lucky to have been essentially wearing sunscreen long before there was even knowledge about daily UV exposure being the #1 cause of premature wrinkling of the skin?
I saw it firsthand so I made it a point to always wear some sort of liquid makeup or mineral powder foundation every day—no matter what. It's a skincare rule I swear by. I'm not using a lot of it because I don't want it to clog my pores or break me out but I've always got something on—and you really should, too. (I'm a skin type #2.) Read what makeup is best for your skin type.
One final thought I'll share about some of the Dallas clients I used to see back in the late 90s who were ages 65+. Imagine my surprise when some of these women would go into the bathroom after their facial and put on a full face of makeup. I would soon learn that some Southern women would go to bed after their husband and wake up before he does so he would never see her without her makeup. It's a thing, y'all! I would like to think this tradition is becoming less and less and I believe it is.
I sincerely hope you enjoyed this post and learned a few things that add to your own skin care rules. If you need help. please contact to our support team here (support@inspiringmart.com). We are here for you! In the meantime check this out my best selling products below, perfect for many skin discoloration problems.
Thank you for your valuable time, see you soon... :)
Currently we're doing FALL sale.

You can save 10% on the everything when you use the code "fall20" to shop today.