Fade Dark Spots With Ingredients You Already Have in Your Kitchen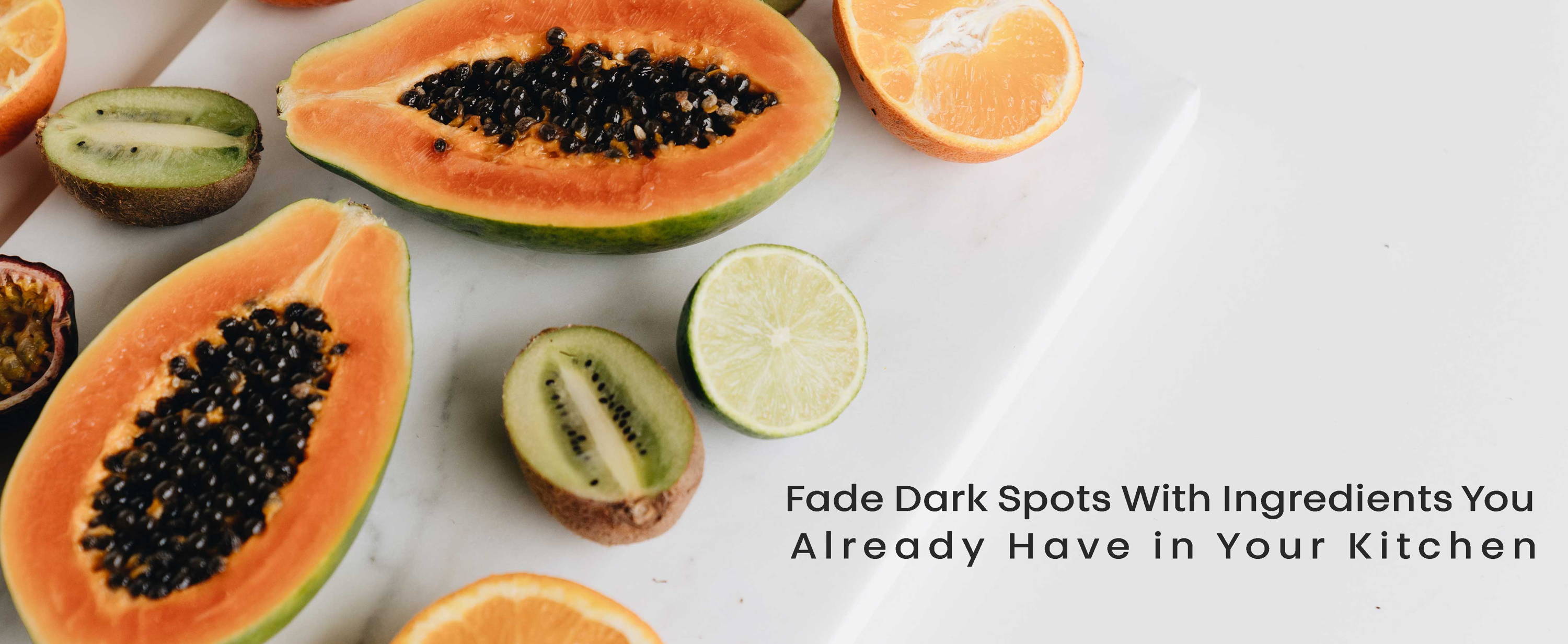 Not everyone gets them, but for those that do, dark spots on the face, chest, hands or elsewhere on the body can be seriously frustrating to deal with as they don't go away on their own and sometimes can't be covered by the average concealer. 
So, what are these discolorations, and why do some people have them? For the most part, dark spots on the skin can be attributed to two causes: scarring and hyperpigmentation (technically, scarring is post-inflammatory hyperpigmentation). 
See, dark spots—aka hyperpigmentation—can be the result of a scar (due to post-inflammatory hyperpigmentation) and photo damage (due to sun exposure).
What's a surefire way to brighten the overall tone of your skin? Rinse away that top layer with a natural exfoliant, like papaya. "Papaya has fruit acids known as alpha-hydroxy acids, which is a chemical exfoliant," 
Dr. Engleman explains. "AHAs are used for dry skin and to anti-age, and works to improve skin by removing the top layers of the skin through weakening the lipids that bond them together, thus removing dull and dead skin cells and revealing healthy skin cells. 
It is very effective in breaking down skin cells and also increasing collagen production because of the removal of dead particles. Papaya specifically will help to brighten and give the skin a youthful radiance." 
To treat your dark spots with papaya, simply mash ripe papaya in a bowl and apply as a mask to clean skin. When removing the mask, you can also use gentle, circular motions for a bit of added exfoliation to that dead top layer of skin cells.

Get instant treatment for Hyperpigmentation!


Get Rid Of Hyperpigmentation

Renews And Removes Dead Skin Cells


Boosts Skin Regeneration Rate
1,000 five-star reviews in 3 Months
2. Use Turmeric to Even Skin Tone
For ages, people in India, parts of Central America, and other subtropical areas have looked to turmeric for its many healing properties, from reducing inflammation to aiding the digestive process. 
Turmeric's benefits also extend to the area of skincare, and it's been shown to inhibit the skin's melanin production, which results in spots due to hyperpigmentation. 
To fade dark spots with turmeric, make a mask using one part turmeric to one part honey. If you wish, you can enhance the lightening process with a few drops of lemon juice, as long as your skin isn't too sensitive, and the citrus won't come into contact with open skin, like recently broken pimples.
3. Reverse Photo Damage with Tomatoes
Rather than slather this ingredient on your face, tomato works best when taken systemically. 
According to a 2014 study, participants who ingested between 40 and 55 milligrams of tomato paste with olive oil per day saw protection from acute and long-term photo damage brought on by UV rays. 
Why is tomato paste so effective? Tomatoes are naturally rich in lycopene, which has multiple health benefits, including sun protection. Not a fan of tomatoes? Look to other similarly-hued fruits and veggies, like guava, pink grapefruit, watermelon, and red sweet peppers.
4. Reduce Scarring with Aloe
For some people, dark spots aren't the result of hyperpigmentation, but scarring, which can be especially apparent on those with more melanin-rich skin. "Scars are unpredictable, which can make them difficult to treat. 
The most important thing is to treat right away," Engleman explains. "The more pliable your skin is, the less chance there is that scars will occur, so adding moisture back into the skin with oils and lotions can reduce the appearance and prevent new ones from forming." 
A tried and true ingredient that can be used to improve your skin's health from the inside, or outside, is aloe. Aloe can be ingested in the form of aloe drinks, or applied to the skin as a moisturizer or skin healer by breaking the leaf of an aloe plant and dabbing the sticky substance onto your scar. 
Don't have an aloe plant on hand? Aloe vera gel can be applied directly to the face, as can many cleansers or moisturizers that contain aloe, like the Mario Badescu Aloe Lotion, which reduces redness.
5. Keep Skin Healthy with Vitamin C
According to the American Academy of Dermatology, vitamin C is one of the most effective natural ingredients that you can count on to lighten existing spots, and potentially prevent new ones from forming.
"For a dark mark scar, look for AHA peels or retinol that will help promote cellular turnover to remove the top layers of the skin," Engleman suggests. 
"To fade hyperpigmentation, look for brightening ingredients like hydroquinone, kojic acid, phytic acid, and L-ascorbic acid." The latter is a mighty skincare ingredient which is also found naturally in vitamin C-rich foods like oranges and spinach. 
While some people prefer to lighten dark spots with lemon juice, others find the high acidic content too intense for the skin and opt to ingest their vitamin C, reaping the benefits from within. You can also try niacinamide, arbutin, and bearberry, as well as resorcinol and tranexamic acid.
I sincerely hope you enjoyed this post and learned a few things that. If you need help. please contact to our support team here (support@inspiringmart.com). We are here for you! In the meantime check this out my best selling products below, perfect for many skin discoloration problems.
Thank you for your valuable time, see you soon... :)
Currently we're doing FALL sale.

You can save 10% on the everything when you use the code "fall20" to shop today.